Fujairah Free Zone Company Setup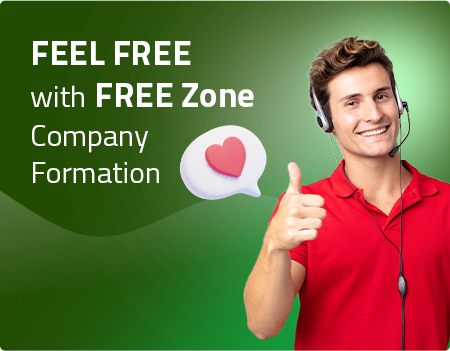 Start Your Business
in Fujairah Free zones
Fujairah free zone company setup is a great option for those looking into trading as a business activity since it's the only Emirate in the UAE that shares a coastline with the Gulf of Oman.
With the establishment of the Fujairah Free Zone Authority (FFZA) in 2005, the free zones of the city have further developed and flourished, allowing the Emirate to grow enormously as an investment hub.
Whether you're looking for a professional license or want to invest in commercial license activities, we'll assist you from start to finish.  Working with Business Link ensures that your work is taken care of. From government approvals, paperwork drafting, and document submission to the FFZA – our team manages it all. Hire us and let us simplify this process for you.
Fujairah is quickly becoming one of the top choices of investment due to the facilities offered and the incomparable cost. Following are some of the free zones in based in Fujairah:
Fujairah Free Zone Authority (FFZA)
Process of Fujairah free zone company set up
Free zone company setup in UAE is an exciting process to be a part of as it allows you to see your business come to life in front of your eyes. While it may be tiresome, nothing is too difficult to manage when working with Business Link.
When looking to find a free zone, it's important you first consider what type of free zone you want to base your company in. You can either look for an industry-specific free zone built around serving specific business activities. Similarly, you could also look into investing in broader free zones that are built to serve a vast range of business activities.
Next, for business setup in a free zone in Fujairah, you must finalize your business activities. Knowing what you want your business to be involved in is crucial as it's one of the steppingstones to perfecting your company formation. By deciding on business activities, you will also find it easier to find the free zone you want to work within as they all cater to different markets.
3. Decide on a company name
It's important to take your time with the name as it's what your clients and your audience will use to identify your business from hereon.
A few other factors to consider is whether your chosen name is available? What the meaning of your name is? Does it disrespect or defame a section of society? If you plan on keeping the name as that of the owner or shareholder, you must keep in mind that the full name needs to be present, initials or abbreviations are not permitted by law.
4. Draft your free zone application
Now that the direction you want to proceed in is clear to you, the next requirement is to fill in and send your official application to the free zone authority you've selected. To successfully send across your license application, you must submit the following documents, among others:
Since the city is home to two popular free zones, they have some requirements that are different than others, in terms of documents, payments, and required approvals. To gain a better understanding of these requirements and what they entail, get in touch with our team and allow us to serve you better in setting up your free zone company.
Provided you submit all documents along with your application, you should have a license issued in no time! After this, you can be on your way to apply for visas, open a corporate bank account and begin your company operations successfully.
Our strong team of consultants and PROs efficiently aid in turning what you've envisioned into a fully functional business. To set up a business in one of Fujairah's free zones, get in touch with us!