Setting up in a UAE free zone is a lucrative opportunity for entrepreneurs exploring the market, especially with its added benefits. Business Link offers comprehensive assistance to entrepreneurs who wish to establish a free zone company in the UAE
Setting up in a UAE free zone is a lucrative opportunity for entrepreneurs exploring the market, especially with its added benefits. Business Link offers comprehensive assistance to entrepreneurs who wish to establish a free zone company in the UAE
UAE is an undoubtedly popular destination for entrepreneurs and foreign investors looking to establish their businesses. Thus, the UAE offers one attractive option for company formation in the UAE – Free Zone.
A free zone is a designated economic area that offers various benefits to businesses, including 100% foreign ownership, zero taxation, and simplified company registration processes.
With over 45 free zones spread across the seven emirates of the UAE, each with its unique advantages and focus industries, a freezone business setup option provides a flexible and attractive environment for foreign investors to start their business in the UAE.
Advantages of a Free zone Business Setup
Setting up a business in a UAE free zone offers several advantages for foreign investors.
Here are some of the key benefits
In a UAE free zone, foreign investors can own 100% of their business without the need for a local partner or sponsor. This provides investors with greater control over their business operations and decision-making.
Businesses in UAE free Zones are exempt from corporate and income taxes, as well as customs duties on imports and exports. This can lead to significant cost savings for businesses.
Free Zones are known for their modern infrastructure, including advanced telecommunications networks, state-of-the-art office and industrial facilities, and excellent transportation links.
UAE Free Zones offer investors the flexibility to start with a small operation and scale up as their business grows. Many free zones also allow for the relocation of business activities within the jurisdictions
or to other locations in the UAE.
The UAE is strategically located at the crossroads of major trade routes, making it an ideal location for businesses looking to access markets in Europe, Asia, and Africa.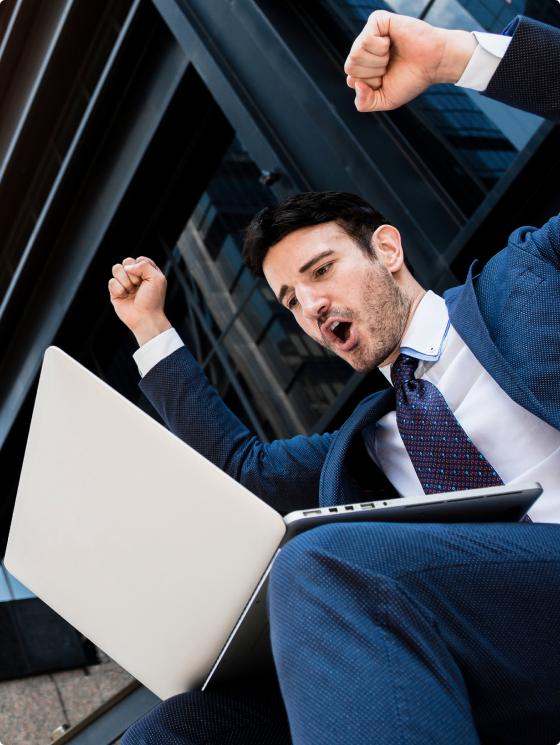 Your Trusted Business Setup Partner
Our extensive knowledge of the UAE freezones can help you choosing the right freezone based on your business requirements.
Business Link offers affordable company formation packages, making it an excellent choice for entrepreneurs who want to establish their businesses in the UAE without breaking the bank.
We have a proven track record of helping entrepreneurs establish their businesses in the UAE. Our high success rate make us an ideal business setup partner.
Setting up a free zone company in any city across the UAE is a relatively simple and straightforward process. Here is the step-by-step process:
Choose a local sponsor: The first step in setting up a business in a free zone in the UAE is to choose the appropriate free zone for your business needs. With over 40 free zones in the UAE, each with its own set of rules and regulations – the choices are abundant. Each free zone is designed to cater to specific industries, so it is essential to choose a free zone that is suitable for your business.
Decide on the Business Structure: Once you have chosen the appropriate free zone, you need to decide on the business structure. You can set up your business as a free zone establishment (FZE), free zone company (FZC), or branch office.
An FZE is a single-owner company, while an FZC is a company with two or more shareholders. A branch office is an extension of an existing company that is registered outside the UAE. Our expert consultants can assist you in picking the right legal structure for your business.
Reserve a Company Name: Next, you need to reserve a company name. The company name should be unique and must not violate any trademark or intellectual property laws. You can check the availability of the name on the website of the free zone authority.
Obtain a License: The next step is to obtain a license for your business. The type of license you require depends on the nature of your business. For example, if you want to set up a trading company, you need to obtain a trading license, while a manufacturing company requires a manufacturing license.
Register the Business: Once you have obtained the license, you need to register your business with the relevant authorities. The registration process involves submitting the necessary documents, such as passport copies of shareholders, a business plan, and the Memorandum and Articles of Association. You will also need to pay the registration fee and the annual license fee.
Open a Corporate Bank Account: One of the final steps is opening a bank account. You will need to provide the bank with the necessary documents, such as the license, the Memorandum and Articles of Association, and the passport copies of shareholders.
Obtain Visas: Finally, obtain visas for your employees. Free zones in the UAE offer a simplified visa process, and you can obtain visas for your employees within a few days. The number of visas you can obtain depends on the type of license you have and the size of your office space.
A free zone business can be a great option for entrepreneurs looking to expand their business. Moreover, with Business Link the process of setting up a free zone business is relatively straightforward, with streamlined procedures and minimal paperwork. 
Free Zone Company Formation in the UAE
Want to know the cost of free zone company setup in UAE?
Establish in a UAE Free Zone Today
Start Your Company in UAE Free Zone Today
Start your Company
in UAE Free Zone
Today
Free Zone Company Formation in UAE
Setting up a business in one of UAE's Free Zones is a brilliant way to kickstart your business. Providing entrepreneurs with top-notch facilities and benefits – the jurisdiction is brimming with opportunities for those looking to invest.
If you are interested in a free zone company setup, what are you waiting for? Our qualified team has got all the answers to your questions.
What is a Free Zone Company?
These are companies that have been licensed and are governed by Free Zone Authorities. Setting up a company in the UAE Free Zone is ideal for startups. The governing body of this jurisdiction is not the same as that of the UAE Mainlands and Offshore jurisdictions – these are regulated by each Emirate's individual Free Zone authority.
Why to Setup a Free Zone Company?
It's simple! Much like all other jurisdictions and their attractive benefits, the UAE Free Zones boast 0% tax, better rates applicable on custom duties as well as complete tax exemption on imports and exports – making Free Zones a highly preferred destination for investors.
Benefits of a Free Zone Company Formation in UAE?
Types of Free Zone Companies
Free Zones give investors the opportunity to set up one of three types of companies in the UAE; Free Zone Establishments (FZE), Free Zone Companies (FZC), and a branch office.
FZEs are companies that have only one shareholder and have similar structure to that of an LLC.
FZCs, on the other hand, are similar establishments that involve a maximum of five shareholders.
Investors have the opportunity to form branches of their companies that are based overseas, within the UAE Free Zones as well. As these are based in the UAE Free Zones, they're regulated by their individual Free Zone authorities
The UAE is home to over 50 different Free Zones that are spread across the different Emirates, each providing its clients with simply the best benefits possible. Whether you're a start-up or are simply looking for a space to work from – Free Zones in the UAE are your best bet. Let's look into the Free Zones of UAE.
There's no doubt that Dubai is the business hotspot of the UAE – given the cosmopolitan atmosphere, technological advancements, and attractive business laws. With excellent tax and customs rates, Free Zones in Dubai are perfect for all those looking to invest in an international business space. Here are some of Dubai's most popular Free Zone locations;
Free Zones located within the Emirate of Sharjah offers the best of both worlds – world-class amenities in a pocket-friendly way. Sharjah is home to three Free Zones that are bustling with opportunities for eager entrepreneurs, these are;
The capital and the largest Emirate of the UAE, Abu Dhabi is home to a vast number of businesses belonging to various industries. Offering a favorable business environment to investors looking to invest in a rapidly growing city – Abu Dhabi Free Zones can be exactly the kick you need to begin your venture. Some of the most popular ones are;
The Emirate of Ajman is strategically located to benefit the surrounding areas of the country. The Ajman port actively caters to various businesses that deal in the import and export of goods, and as their Free Zone serves as a beneficial hub for both western and eastern markets – investing in the city can be very beneficial. Here are the Free Zones you should be interested in;
Due to a lack of awareness and general popularity among other Emirates, Fujairah is usually an Emirate that is overlooked by investors looking to set up their business. However, Fujairah has an immense amount of business privilege, given its shared border with Oman and it being situated next to several ports. Some of the Free Zones in this lively Emirate are;
RAK is quickly growing to be a popular business setup location and a hub for foreign investment. The gorgeous Emirate boasts a business setup cost that is among the lowest in the country. While RAK has only one free zone, the Ras Al Khaimah Free Trade Zone (RAKFTZ), it is still home to over 12,000 companies, owing to the brilliant incentives they offer. Provided the nature of your business activity fits in well with what the business environment of RAK is like – this can be best home you can give your brand-new business!
Umm Al Quwain has increasingly been attracting several clients for the purpose of business setup – and for all the right reasons! The Umm Al Quwain Free Trade Zone (UAQFTZ) offers the perfect environment for micro-businesses and establishments with a smaller budget. The investor-friendly laws within are welcoming a considerable number of investors with each passing day. If you've been considering a region to set up your business in, UAQ needs to be on your list!
There's very little for you to worry about when you've got our experts by your side. Our team at Business Link can help in managing your paperwork, approvals, and setup procedure to ensure the experience of launching a business is as seamless as possible!