Business Setup in Dubai Free Zone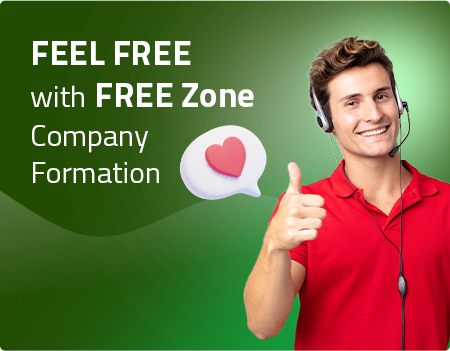 Setting Up a Business in Dubai Free Zone
Thinking of a business setup in Dubai free zone? If so, this is for you!
Dubai houses over 20 free zones that offer world-class business amenities. Flexi-desk and Flexi-office setups, great infrastructure, access to freehold property, and complete privacy to investors with limited reporting obligations – Dubai free zones are nothing but a dream! These free zones offer entrepreneurs highly beneficial custom rates along with a tax system that's incredibly favorable to them.
Each Free Zone is built around a few commercial activities, and so, they offer licenses to only the companies whose business activities comply with those of the Free Zone jurisdictions.
Business Link has experienced consultants specializing in the Free Zone license and with their years of experience; setting up your business will be no biggie!
Connecting people from the east and the west, through air and sea routes, and from varying industries and areas of interest – the free zones of Dubai have an incomparable level of range within them. Regardless of whether you want to invest within a free zone that focuses on specific industries or want one that caters to the needs of a wider audience, this jurisdiction in Dubai has got it all.
Process of business setup in Dubai free zone
When looking to find a free zone, it's important you first consider what type of free zone you want to base your company in. You can either look for an industry-specific free zone built around serving specific business activities. Similarly, you could also look into investing in broader free zones that are built to serve a vast range of business activities.
Next, for business setup in free zone, you must finalize your business activities. Knowing what you want your business to be involved in is crucial as it's one of the steppingstones to perfecting your company formation. By deciding on business activities, you will also find it easier to find the free zone you want to work within as they all cater to different markets.
3. Decide on a company name
It's important to take your time with the name as it's what your clients and your audience will use to identify your business from hereon.
A few other factors to consider is whether your chosen name is available? What the meaning of your name is? Does it disrespect or defame a section of society? If you plan on keeping the name as that of the owner or shareholder, you must keep in mind that the full name needs to be present, initials or abbreviations are not permitted by law.
4. Draft your free zone application
Now that the direction you want to proceed in is clear to you, the next requirement is to fill in and send your official application to the free zone authority you've selected. To successfully send across your license application, you must submit the following documents, among others:
Since Dubai houses several free zones, it's only natural for these jurisdictions to have certain requirements that are different than others. Because of this, the total documents that are required by each free zone may be more or less – depending on your license type and the activities you plan on conducting within.
Provided you submit all documents along with your application, you should have a license issued in no time! After this, you can be on your way to apply for visas, open a corporate bank account and begin your company operations successfully!
Our experienced consultants are always up to date with new laws and provisions as we aim to assist you by providing tailored advice, each time! Book a free consultation with us and find out why we're among the best in the business.